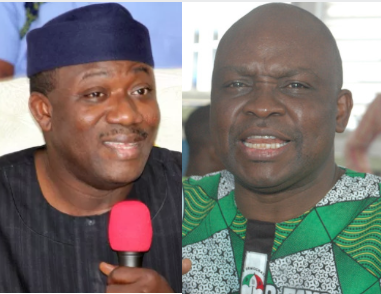 The Governor of Ekiti State, Mr Ayodele Fayose and the Governor elect, Dr Kayode Fayemi on Friday in verbal fights over an allegations on sales of some of the state government property including Oja Oba ultra modern market and some landed property.
Fayemi who issued a statement through his Chief Press Secretary, Mr. Yinka Oyebode, urging the public to be cautious on suspecting moves by the outgoing governor to dispose
of some valuable properties of the state via alleged shady arrangements.
The statement which read:
"The attention of the Governor-Elect of Ekiti State, Dr. Kayode Fayemi, has been drawn to the clandestine moves by the outgoing Governor of Ekiti State, Mr. Ayodele Fayose, to hurriedly dispose of some valuable properties of the Ekiti State Government through shady arrangements.
"Some of the properties are: a large expanse of land between the Ondo State Civil Service Commission and Elan Club, in front of the Government Printing Press, Alagbaka, Akure; Erinfun Livestock Development Centre, covering 600 hectares of land along the Federal Polytechnic Road, Ado-Ekiti; the new Oja Oba market.
"We hereby inform and advise the general public, particularly prospective buyers, to be circumspect in entering into any transaction with the outgoing governor, Mr. Ayo Fayose, in respect of any of the properties mentioned above or any other one whatsoever, as the incoming administration may not recognise or give effect to such transactions. A word is enough for the wise!"
But reacting to the allegations, Fayose said he remained the governor of the state till October 16, urging Fayemi to wait for the time he would be sworn in.
He said, "The governor-elect is wasting his time. I am still the governor of Ekiti State till October 15 legitimately. He is only ranting. That is ranting. He should wait for his time. Somebody stole a mandate and he is still claiming to have a mandate.
"It is the kind of leadership we have in the country that causes this kind of issue. I was elected for a four-year term, which will end in about six weeks' time. I will function till the last day of my departure. If he likes, he can do what he likes during his tenure. The record will be there for him.
"Was he the one that built the market? I built it and I am allocating it. The people will have legal backing to protect them. They want to come and give it to their cronies. I will do my legitimate job until the last day of my departure. Even if I want to sell Ekiti property, I am still the governor here. When he comes, everything will be in public domain."