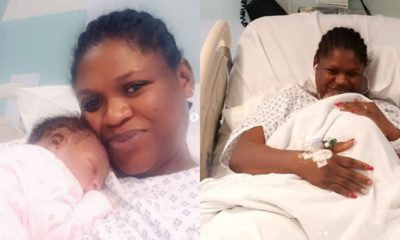 N
ollywood actress, Seyi Alabi has welcomed a baby girl as confirmed in an Instagram post she shared earlier today.
The excited mother disclosed that her baby has been christened Princess Alabi. Seyi Alabi also stated that giving birth to her child was worth all the pain and aches as she said a prayer for expectant women.
She wrote ;
"I am Greatful oh Lord for you have done exceedingly and abundantly for us. Welcome to our Family my Little Miracle Princess. It was worth all the aches and pain.
You are bearly 24hrs old and my love for you is incomparable. To all expectant Mums out there, I pray it shall be a miracle delivery for you as mine just did. To all looking for the fruits of the womb, I prophesy that your womb will be open and you will testify to the goodness of God in your lives.
Go ye and be Fruitful and Multiply in JESUS NAME. AMENOLUWA ETOBI, ETOBI OOOO, ETOBI.KO SI ENI TA LE FI SE AKAWE RE OOO, ETOBI.KO SI ENI TA LE FI SE AFIWE RE OOO, ETOBI OLUWA. Fam I am indeed a blessed Child Cheers to our Latest Princess ALABI